Health is a relationship between you and your body
Terri Guillemets
Did you know that your eyes are the windows into the inner health of your body?  When you change your lifestyle, your eyes might change in the process, even brown eyes can change into blue.  I want to share with you two stories, so you can see it for yourself.
The first story is from Zlati, a beautiful 28 year old girl from Portugal.  She has changed her diet dramatically over the last three years and on a regular basis taken pictures of her eyes.  Can you see the changes?
Can you see the different color she has now, compared to two years ago?  Her eyes are getting much lighter brown and I wouldn't be surprised if her eyes will become blue, if she continues to dig deeper.  I got permit from her to share her story with you, so you can see how she has changed her lifestyle and how it has been.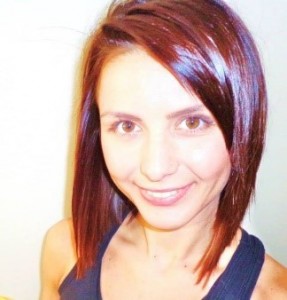 "3 years of detoxing on a raw food diet, with lots of fruit, juicing, breathing techniques and daily exercise. What a journey…I was dealing with constant bacterial and fungal infections, UTI`s, iron deficiency, fatigue, intestinal problems, due to past use of many antibiotics, huge headaches and stiff neck/shoulders; dry, hot and always red eyes…and so much more…I was feeling exhausted all the time and in so much pain for over 2 years, but always knew I wanted to continue on the raw path. A couple of months ago I finally started filtering (meaning that she started filtering the lymphatic system through her kidneys).  Yey!!! and everything got much better! No pain, no skin problems…I still have a lot of work to do, but sometimes it feels good to celebrate even the small victories (She calls it a small victory, but wow what a discipline this girl has).
I always thought my eyes were completely brown. The first time I noticed they were getting generally lighter was after a juice fast on just lemons during the day, and carrot juice at night. In 1 month there was a significant difference in the color.
It takes time, patience, tons of fruit and rest. It is a lot of work, but I believe we will all get there at some point" –  Zlat
As you can see on her first photo, her pupils are very large.  Much larger than on the other photos, later in her process.  This indicates that her adrenals were very stressed when she started.  That could be caused by mental, emotional or physical stress. What a relieve for her body to get her adrenals in balance and what a change her eyes reveal.
Another girl that has changed her lifestyle dramatically and had her eyes changed in the process, from brown to blue, is Kristina Buccaran from Fully Raw (http://www.fullyraw.com/). She had hyperglycemia and was in and out of hospitals, before she started her journey on a 80-10-10 diet.  80-10-10 diet is a low fat vegan diet, that consist of 80% carbohydrates that come mainly from fruits and vegetables, 10% protein and 10% fat.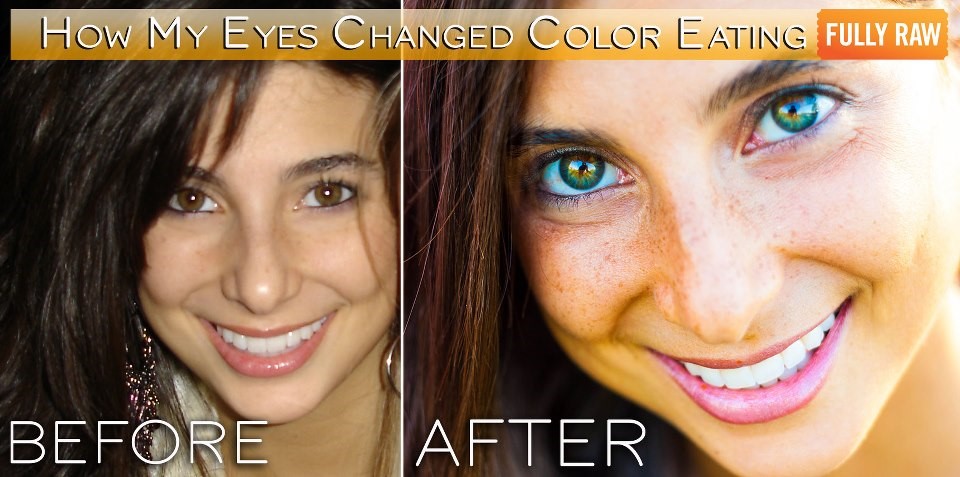 Sometimes the body get stresses from the food we eat, because we can't tolerate it or digest it properly.  But we might not be aware of it and therefore we keep eating food that might be bad for our system.  Changes in diet can relax both mental, physical and emotional stress and we can possibly find out if we have some intolerance's by doing that.
Sometimes it can be a bad relationship with others that influence our health or work related stress that affects us, without us being aware of it.   We can benefit enormously and getting in better contact with ourselves by doing some deep breathing exercises, yoga and meditation.
Change your lifestyle to change your health !